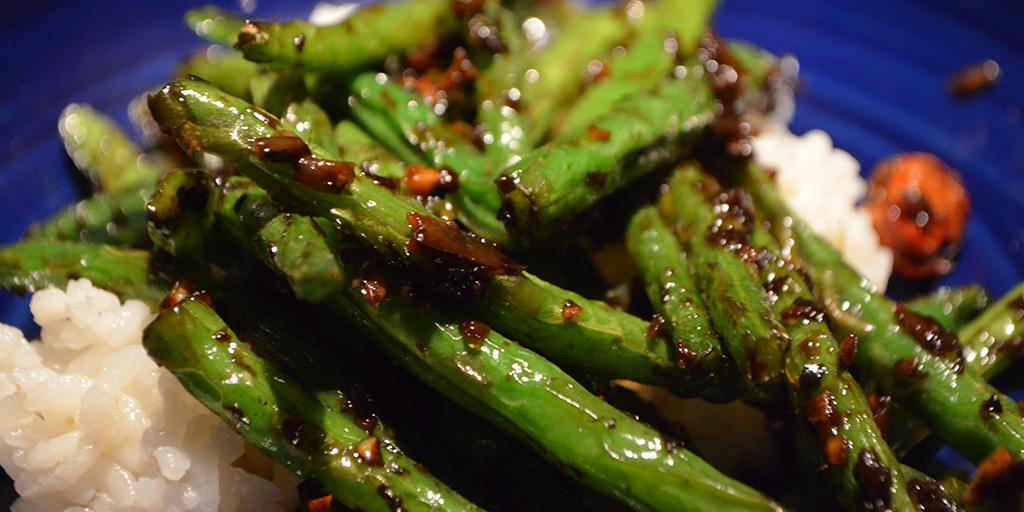 Ingredients
1 tablespoon peanut oil
6 cloves garlic, thinly sliced
2 shallots, diced
1 pound fresh green beans, trimmed
¼ cup rice wine
1 tablespoon soy sauce
½ teaspoon hot chili oil
1 teaspoon sugar
1 tablespoon oyster sauce
½ teaspoon ginger
1 tablespoon sesame seeds, lightly toasted
Directions
In a large, heavy skillet, heat oil until very hot.
Add shallots, sitr frequently to prevent burning.
When shallots have browned slightly, add garlic then green beans, and toss.
Cook about 8 minutes, until green beans start to soften.
Deglaze pan with rice wine, stir well.
Add soy sauce, chili oil, sugar, oyster sauce and ginger, tossing all ingredients with the beans.
When green beans are as soft as you'd like them, remove from heat.  Plate the beans and sprinkle with sesame seeds.
Related articles across the web