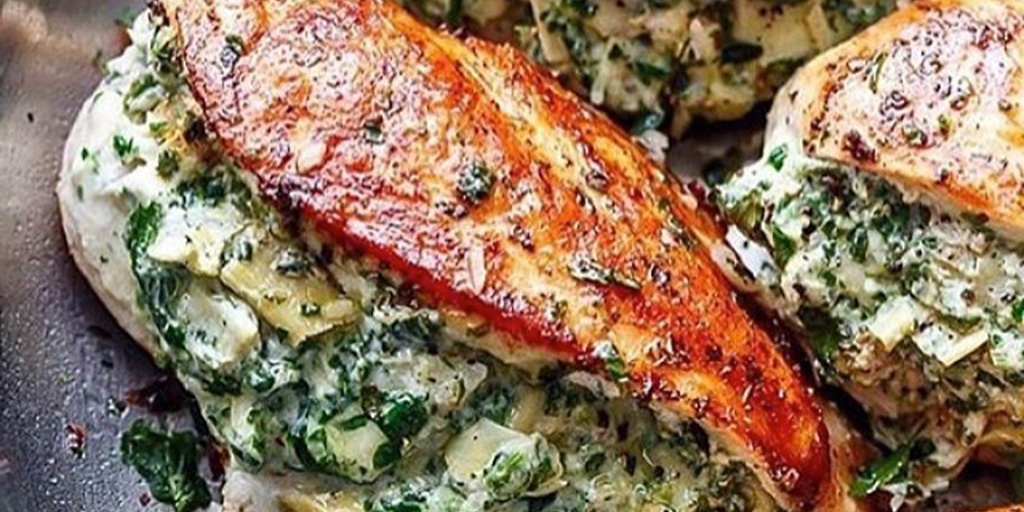 Ingredients
Chicken
4 boneless, skinless chicken breasts
2 tablespoons Italian seasoning
1 teaspoon sweet paprika
salt and pepper
Spinach & Artichoke Dip
4 ounces of frozen spinach, thawed
8 ounces cream cheese, at room temp
6 ounces artichoke hearts in brine, finely chopped
½ cup mozzarella cheese, shredded
¼ cup parmesan cheese, grated
1 tablespoon garlic, minced
Salt to taste
Cream Sauce
Directions
Season both sides of each breast with the Italian seasoning and paprika. Cut a slit or pocket about ¾ quarter of the way through each breast, being careful not to cut all the way.
Squeeze all excess liquid out of the spinach. In a medium-sized bowl, combine the artichokes, spinach, cream cheese, mozzarella, parmesan and garlic. Mix well.
Fill chicken pockets with 1-2 tablespoons of the  dip, spreading evenly with the back of the spoon. Reserve the leftover dip for the cream sauce.
Seal the pocket opening with two or three toothpicks near the opening to keep the dip inside while cooking.
Heat 1 tablespoon of oil in a skillet (or non stick pan) over medium-high heat. Add the chicken and fry until golden. Rotate and fry on the other side, covering pan with a lid, until cooked through, (about 6 to 7 minutes per side). Transfer chicken to a warm plate to make the cream sauce.
Pour milk into the skillet and bring to a simmer. Add in the remaining dip (you should have about half remaining), and stir until sauce is combined and thickened. Add the chicken back into the pan and serve immediately!