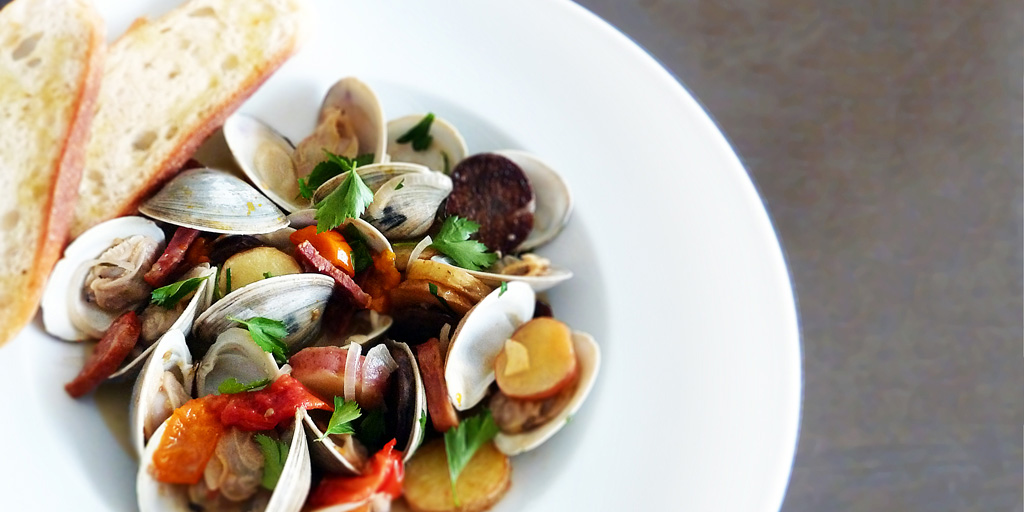 Ingredients
¾ cup dry white wine
1 medium onion, diced
¼ pound dried Spanish chorizo, diced into ¼ inch pieces
1 yellow bell pepper, diced
½ pound new potatoes, sliced cross-wise
2 tablespoons olive oil
2 tablespoons fresh cilantro
1 clove garlic, minced
2 pounds' littleneck clams, washed and scrubbed
¼ teaspoon salt
1 pound loaf of rustic bread
Directions
Warm bread wrapped in foil in 350 ºF oven.
Add the oil to a 5-quart pot, heat and fry the bell peppers, potatoes, onion, cumin, and garlic for 5-8 minutes, then mix in the wine.
Once boiling drop in the clams with the chorizo, place a lid on and cook for 6-8 minutes.
Take out any that do not open and discard them.
Mix in the cilantro and season, dish up.  Serve with warmed bread.