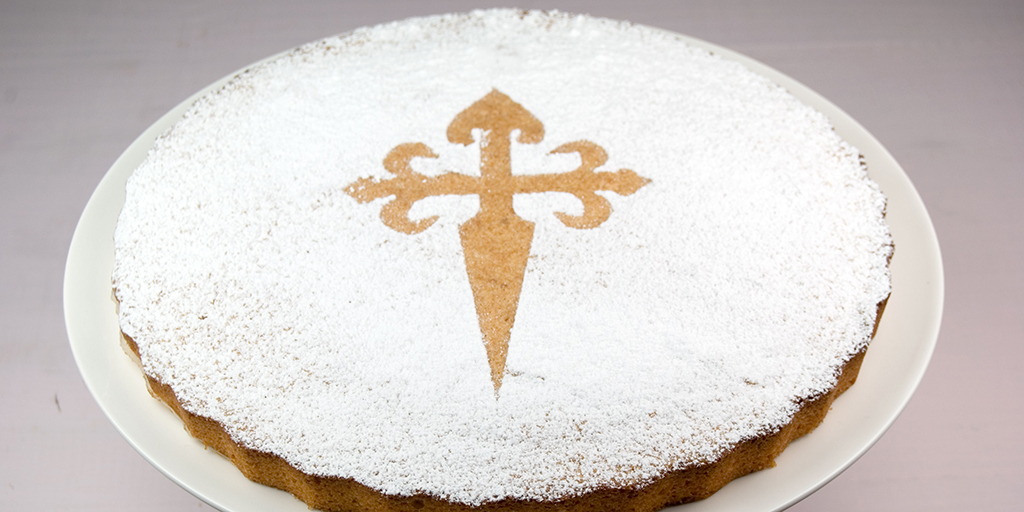 Torta de Santiago or Tarta de Santiago, literally meaning cake of St. James, is an almond cake or pie from Galicia with origin in the Middle Ages. The Galician name for cake is Torta whilst it is often referred to Tarta, which is the Spanish word. The filling principally consists of ground almonds, eggs, and sugar, with additional flavouring of lemon zest, sweet wine, brandy, or grape marc, depending on the recipe used. It is a round shape and can be made with or without a base which can be either puff pastry or shortcrust pastry. The top of the pie is decorated with powdered sugar, masked by an imprint of the Cross of Saint James which gives the pastry its name.
Ingredients
For the base
4 ounces powdered sugar
1 tablespoon of water
1 egg
¼ teaspoon baking powder
Pinch of cinnamon
For the filling
8 ounces sugar
Lemon zest
4 eggs
Powdered sugar
8 ounces ground almonds
Cinnamon to taste
Directions
Pre-heat the oven to 375°
Using the base ingredients, whisk the eggs and spoonful of water together, then add in a small amount of cinnamon, baking powder and the powdered sugar until you have a dough.
Take a cake tin and spray grease it and dust with all purpose flour.
Now roll the dough out and place in the base of the tin.
Next make the filling by beating the eggs, lemon zest and sugar together.
As it begins to go frothy drop in the cinnamon and almonds.
Pour into the tin and cook for 30 minutes.
Once done take out and place a cardboard cut out of a St. James cross on top.
Once placed in the center, dust with icing sugar, then remove the cut out.
Serve with coffee or tea.