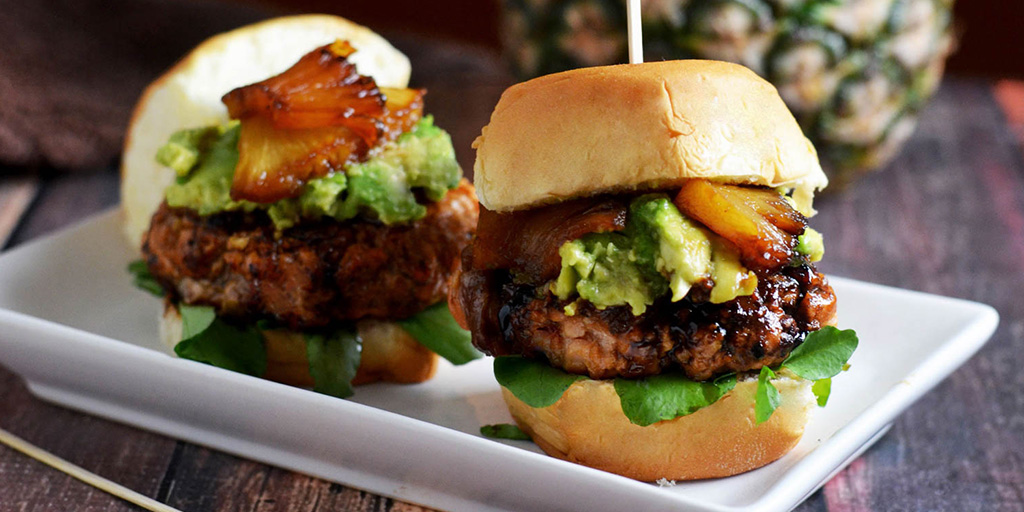 Ingredients
Salmon Patties:
1½ pounds fresh salmon, skinless and deboned
2 tablespoons mayonnaise
2 green onions, chopped
Teriyaki Glaze:
1½ cups pineapple juice
1 cup water
2 cups light brown sugar
2 tablespoons soy sauce
½ cup teriyaki sauce
3 tablespoons rice vinegar
4 cloves garlic, minced
½ small white onion, finely minced
2 teaspoons peeled fresh ginger, minced
Cook & Assemblage
2 avocados, pitted and peeled
Kosher salt
6 fresh pineapple rings, thinly sliced and quartered
1 tablespoon plus 2 teaspoons vegetable or canola oil, divided
Freshly ground black pepper
1½ cups fresh watercress
12 Hawaiian-style rolls, toasted
Direction
Chop salmon into small cubes and place half in the bowl of a food processor. Pulse about 5 pulses until only small pieces remain.  Add in mayonnaise and remaining salmon. Continue to pulse until well distributed, with some chunks of salmon remaining. Do not make a paste as you want to be able to mold the mixture into patties.
Remove salmon mixture from the processor and put into a bowl.  Mix in the green onions.  Form 12 evenly sized patties. Set the patties on a parchment paper–lined baking sheet and refrigerate until ready to cook.
In a medium saucepan over medium heat, whisk together pineapple juice, water, brown sugar, teriyaki sauce, and soy sauce until sugar is completely dissolved. Bring to a boil and then lower heat to barely a simmer. Add rice vinegar, garlic, onion,  and ginger. Continue to cook  until sauce is reduced by half, about 30 minutes.  Set aside to cool.
In a small bowl, gently mash the avocado with a spoon. Season lightly with salt and set aside.
Add 2 teaspoons oil to a medium skillet and set over medium heat until hot. Dip pineapple rings into sauce and then place just the pineapple into the skillet. Cook, turning and applying more glaze, until lightly caramelized. Remove pineapple from skillet and set aside.
Season salmon patties with salt and pepper.  Add remaining 1 tablespoon oil to the skillet set over medium-high heat until hot.  Then cook patties in batches until golden, about 2 minutes per side. Brush liberally with glaze and cook for 1 minute longer on each side, applying more glaze when you flip the patties. Reduce heat to low and continue to cook, turning and brushing with glaze, until salmon burgers are medium-rare (115°F).
Place on bun the watercress, salmon patty, mashed avocado, glazed pineapple, and then the top bun.
Related articles across the web