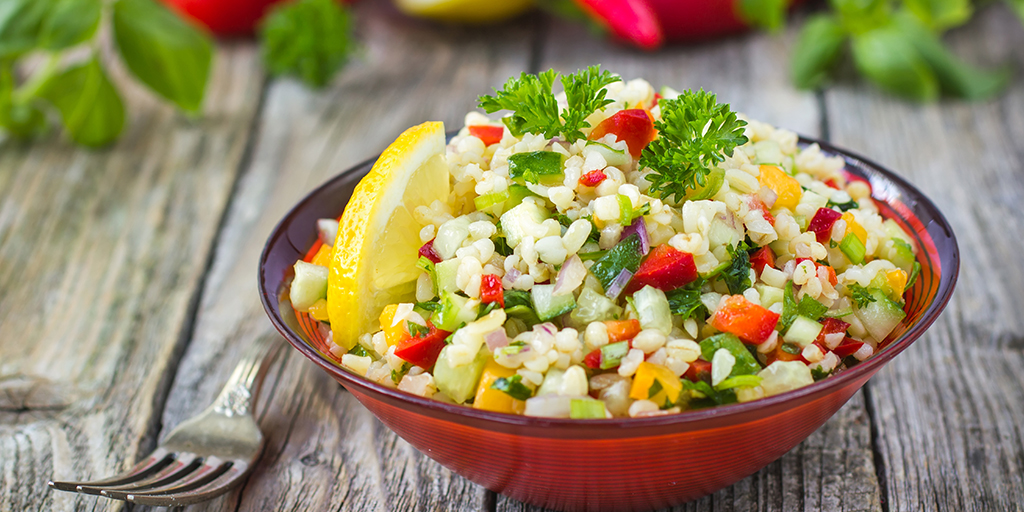 Ingredients
¾ cup quinoa
¾ cup farro
1¾ teaspoon kosher salt, divided
3 unpeeled Persian cucumbers, quartered lengthwise
⅓ cup olive oil plus 1 tablespoon more for brushing
¾ cup fresh squeezed Meyer lemon juice (about 4 small lemons)
2 cloves garlic, minced
½ teaspoon freshly ground black pepper
2 cups diced heirloom tomatoes
1½ cups fresh parsley, chopped
3 unpeeled Persian cucumbers, cut in half lengthwise
4 green onions, thinly sliced
½ cup red onions, diced
½ cup fresh mint leaves, chopped
Directions
Preheat barbecue grill.
Rinse and drain farro and quinoa in fine mesh strainer under cool running water.
Heat a large skillet over medium heat. Add the farro and quinoa to toast about 10 minutes, stirring constantly. It should be fragrant and golden – do not let burn.
Brush cucumbers with olive oil. When grill is hot, grill cucumbers about 2 minutes on each side. When done, cool and dice.
Bring 2½ cups water to boil in saucepan with a ¼ teaspoon salt. Add farro and and quinoa. Return to a boil and then reduce heat to simmer. Simmer for 20 minutes until both the farro and quinoa are tender and liquid is absorbed. When done, fluff up the quinoa with a fork. Transfer to large bowl to cool.
While the farro-quinoa mixture is cooking, whisk the lemon juice, oil, garlic, pepper, and remaining salt in small bowl.
Stir in tomatoes, cucumbers, parsley, green onions, red onions and mint with the farro and quinoa. Pour dressing on and toss to coat. Serve either at room temperature, or cover and refrigerate until salad is cold.