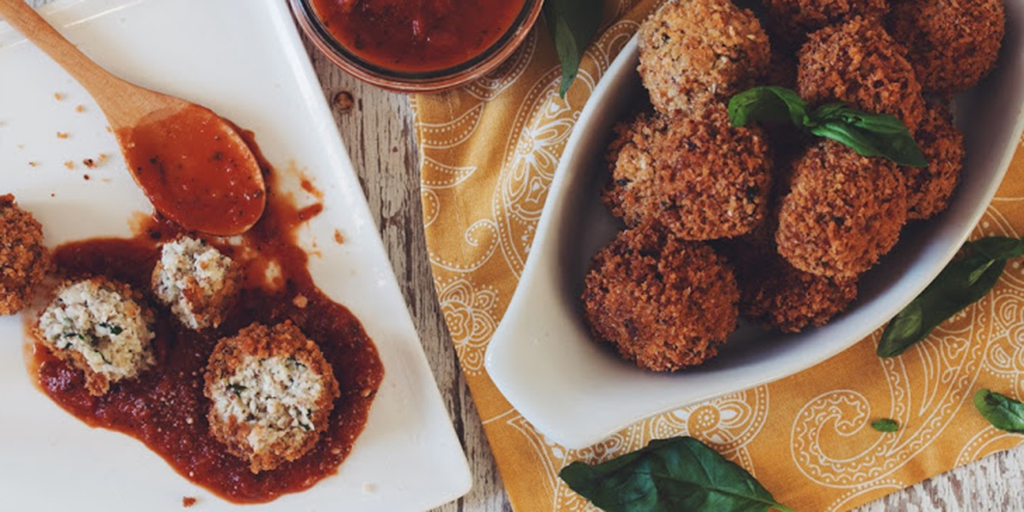 Ingredients
⅓ cup pecans or almonds
½ cup  coconut flour
½ cup roasted red peppers, chopped in ⅛ pieces
4 large basil leaves, finely chopped
2 large eggs, divided
2 teaspoons garlic powder
1 teaspoon kosher salt
½ teaspoon pepper
6 tablespoons + 1 tablespoon coconut oil
Pesto or marinara sauce
Directions
Preheat oven to 400°F.
In a food processor, process the coconut flour and pecans. Blend until the pecans are mixed in with the flour and are small rice size pieces.  Transfer to a bowl and add the salt and pepper.
In a large metal bowl, combine the cauliflower rice, peppers, garlic powder, basil, 1 egg,  salt and pepper.
Form mixture into 1½" balls.
In a small bowl, whisk 1 egg and set aside.
Dredge balls in the eggs mixture.  And then roll ball immediately into the flour/nut mixture.
Using a frying pan over medium high heat, melt coconut oil.
Fry the rice balls 2 minutes on each side.   Transfer to a baking dish with 1 tablespoon melted coconut oil (or more depending on the size of your dish). 

Bake in oven 10 minutes.  The  rice balls should be golden brown and warmed completely through.
Spoon sauce (pesto or marinara) onto a plate.  Add rice balls on top of the sauce and serve.
Related articles across the web