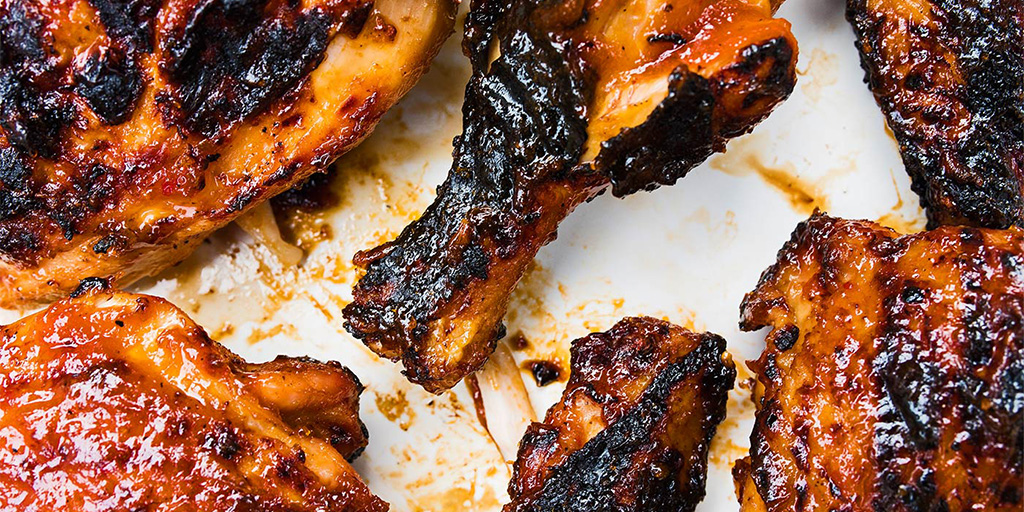 Ingredients
1 4-5 pound chicken, cut into pieces
1 recipe Italian Marinade Recipe for Chicken
2 tablespoons vegetable oil
1 large sweet yellow onion, roughly chopped
2 peaches  chopped
1 cup ketchup
2 teaspoons onion powder
2 teaspoons garlic powder
1 tsp chipotle powder
1 teaspoon smoked paprika
½ teaspoon freshly ground black pepper
½ teaspoon cayenne pepper
¼ cup apple cider vinegar
½ cup fresh orange juice
juice of one lime
⅓ cup molasses
⅓ cup brown sugar
2 tablespoons Worcestershire sauce
2 teaspoons mustard powder
½ teaspoon crushed chili flakes
1 cup bourbon (cheap is ok)
2 cups water
Kosher salt
Directions
Place the chicken into a ziplock bag and pour the Italian Marinade Recipe for Chicken over it.
Make sure all pieces are covered in marinade and allow to marinade for at least an hour and up to 24 hours.
BBQ Sauce:
Heat oil in a medium saucepan over medium heat.
Add onions and peaches. Cook for 5-7 minutes until tender.
Add ketchup and cook about 2 minutes. Add  onion powder, garlic powder, paprika, cayenne, and black pepper. Cook one more minute
Add bourbon to a blender then add the sauce mixture.  Blend smooth and no lumps remain.  Add back to the saucepan.
Add vinegar, orange juice,  molasses, brown sugar, Worcestershire sauce, chili flakes, mustard powder and water.
Cook until reduced by half, this will take about 30 minutes. If necessary, adjust taste with molasses, vinegar or lime.
BBQ sauce may be stored in an air tight jar in the refrigerator for up to one month.
Chicken:
Remove chicken from the refrigerator.
Prepare grill for medium heat.
Grill chicken, turning frequently until nicely brown, 15–20 minutes.
Start basting the chicken with the BBQ sauce with a pastry brush. Be generous!
Continue grilling, turning and basting with barbecue sauce often, until chicken is cooked through and an instant-read thermometer inserted into the thickest part of thigh registers 165°, about 8–10 minutes longer.