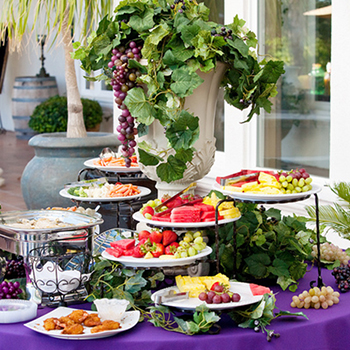 When planning a party, there can be so many things to think about, making your planning quite stressful. First and foremost being the venue of the party. Will it be a house party, or would it be preferable to hire a venue in West London or Birmingham? Once you figure the initial details out, then comes further party preparations. One of the most worrying things is knowing how many people are going to attend the party. Without knowing an exact number, it can be difficult to provide food for all of the guests. Aside from that, things like drinks, seating and decoration also need to be thought about. Also, to make your party feel more alive, it might even be worth looking at getting some of the top selling rock speakers ready for your party. You can't have a party without some music, so be sure to find some time to create the perfect playlist for the party. Music can set the scene and create a lively atmosphere for the guests.
After organizing all of that, it's important to come back to the food. How much are you going to make and what are you going to serve? It's widely acknowledged that tiny bites of anything just taste a gajillion times better than their gigantic cousins and that's why figuring out how many appetizers you need per person is a huge challenge. If you've ever gone to any sort of gathering where appetizers are on the feature, you know that's where you're going to find all sorts of happy people who are going to want to try everything on deck. So if you're hosting a soiree, make sure your appetizer game is on point, this is going to make the difference between a smiles-and-giggles party and an everyone-leaves-early-and-hungry event. The key to having the perfect amount of appetizers per person is having enough unique individual tasters and equal amounts of loosey-goosey platters of dip and something. For example, you want to make sure you have at least two platters of either the vegetable and dip platter, fruit and dip platter, or cheese and crackers platter for a soiree of 10.
Your appetizer bombs
Then you can add your big guns and by big guns we mean those little loved bites of something special you're going to create and they're going to rave about and eat and rave again. With the smaller appetizers, you want to approximate 12 appetizers per person. The number may sound like a lot, but remember these appetizers are going to sustain people throughout your event so it is not out of the question that your guests could easily pop back four in one round of the appetizer service table.
Now that we've got numbers out of the way, let's talk about what makes a delicious appetizer table.
Seasonal
You definitely want to be serving according to season so it makes sense and so you can get fresh, flavorful ingredients. Remember it's not quantity, it is absolutely about quality.
Autumn Appetizer
Chorizo and Sweet Potato Bites
Serves: 10
Prep Time: 10 mins.
Ingredients
2 lbs chorizo sausage
2 sweet potatoes
extra virgin olive oil
Directions
1. Preheat oven to 400 degrees and line a baking tray with parchment,
2. Slice sausage into 1/2″ thick slices, set aside.
3. Peel and slice sweet potatoes into 1″ cubes.
4. Heat 3 tbsp extra virgin olive oil in skillet over medium heat.
5. Add sweet potato cubes and saute until browned, remove from skillet.
6. Into same pan add chorizo and saute until browned, remove from skillet.
7. Place chorizo and sweet potato on baking tray and place in oven for 15 mins, cool.
8. Thread two chorizo bites in between two sweet potato cubes on a toothpick and place on serving platter.
Winter Appetizer
Meatballs
Serves: 10
Prep Time: 20 mins.
Ingredients
2 lbs lean ground beef
2 green onions, finely chopped
6 cloves garlic, minced
1/4 cup tomato sauce
1 tbsp brown sugar
1 tbsp flour
1 tsp salt
1/2 tsp black pepper
1/2 tsp cumin powder
1/2 tsp cayenne pepper
extra virgin olive oil
Directions
1. Preheat oven to 400 degrees and line two trays with parchment.
2. Combine ingredients in a large bowl and knead.
3. Roll meatballs into 2″ balls and place on lined trays.
4. Bake meatballs for 20 mins. on middle rack.
5. Place meatballs on serving platter and insert toothpick inside each one.
Spring Appetizer
Tomato and Prosciutto Bites
Serves: 10
Prep Time: 10 mins.
Ingredients
20 cherry tomatoes
1 lb Mozzarella
1 lb Prosciutto, thinly-sliced
Directions
1. Slice tomatoes in half.
2. Slice Mozzarella into 1/2″ cubes.
3. Thread 4 tomato halves and two Mozza cubes on a toothpick and wrap a prosciutto slice around, place on serving platter.
Summer Appetizer
Watermelon Mint Bites
Serves: 10
Prep Time: 10 mins.
Ingredients
1 large watermelon
1 bunch mint
1 tsp cayenne
1 tsp salt
Directions
1. Slice watermelon into 1″ cubes, remove seeds.
2. Place mint, cayenne, salt and 1 cup watermelon cubes in food processor and mix until you have a sauce.
3. Toss watermelon with mint and thread three cubes per toothpick.
4. Appetizers for all
Perhaps we're all kids at heart and want little things to play with or maybe we love the fun of tasting all sorts of things without committing to one, whatever it is appetizers are a hit.