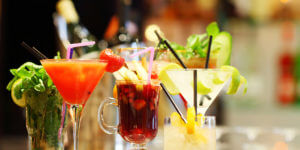 Mood Cocktails

Mood cocktails are drinks with personality or emotion and is perhaps the strangest trend for 2017. Bars may soon be doing away with the traditional menu and listing drinks by mood – red to stimulate confidence, yellow for friendship, and black for discipline. Some bars are using aromatherapy by adding scents such as cut grass and smoked pine to evoke nostalgic feelings. Others are creating interesting nostalgic-based menus based on record albums, astrological signs, conspiracy theories, and even color swatches.

Theatre in a Glass

The best mixologists have always understood the importance of theatre, without going over the top. In 2017 you'll be seeing more and more theatre in the glass, as drinks makers seek out ever more exciting ingredients, like the butterfly pea flower, which is ph sensitive and will change the color of a drink when mixed with citrus (get some ideas here), or the Szechuan Button, an edible flower that delivers an electric hit.

Health Conscious Coctails

Drinking alcohol is obviously not the healthiest decision one can make but some bartenders are starting to add healthy ingredients — from nutrient-rich veggies to fermented kombucha to trendy activated charcoal. Fermented kombucha, apart from being non-alcoholic, has several other benefits. For instance, it can help in cancer treatment as well as in controlling blood pressure. One can avail of its benefits when consumed in the right quantity. Subsequently, you might be wondering, "how much kombucha should I drink?" in order to gain those benefits. In that case, you can look into some trusted online resources to find out yourself. On a similar note, activated charcoal is said to have detoxifying properties and to dye it a trendy jet-black. Some might even consider adding a drop or two of CBD oil to promote relaxation and add an extra zing.

Garnish It!

Today, most top mixologists recognize that cocktails, at the end of the day, are about fun. The craft cocktail movement was once associated with hidden speakeasies, many of which had an enormous sense of importance about their craft where the entire focus of the experience was on painstakingly designed drinks. Adding a culinary twist to classic cocktails with unique ingredients like roasted grapes, salt-roasted plantains, smoked tomato water, puréed red pepper, snap peas, corn, or even pickling brine to create either sweet or savory culinary cocktails. Today's mixologists seek acknowledgment for their craft and understand designing for the social media impact of one of their cocktails posted on Pinterest, Instagram or Twitter. Social media advertising is one of the main ways that people see and know about what's out there. Influencers want to get instagram followers, and to do that they need appealing content to draw in the crowds and get them to stay.

Latin Influences

Cocktails are no longer just tequila's domain to instill a Latin influence. Think South American-inspired cocktails like a Caipirinha using mezcal, cachaça, jalapeño-infused cachaça, serrano chili syrup or pisco. Thanks to the introduction of mezcal, bartenders and consumers have been eager to get their hands on more obscure Mexican spirits like bacanora and sotol. South American and Caribbean spices such as chili powder, Jamaican jerk, and smoked paprika are now popping up in unique and savory creations.

Fermented Cocktails

Signature cocktails developed out of fermented beverages like coconut kefir, Kombucha, and ginger beer for creations like the new range, especially when combined with lemon, limes or mandarins. On top of being delicious, fermented food and drinks are full of enzymes, vitamins, and probiotics that do wonders for your health. You can also expect more health-conscious cocktails in general – drinks made with everything from leafy greens to chia seeds to activated charcoal.