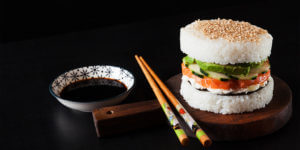 Faux food

We've reached a tipping point for vegetables. Millennial are pushing animal protein to the side of the plate … or entirely off it. With the rising prices of animal protein products, concerns with hormones, and healthy diet concerns, more and more option will find its way into restaurants and grocery stores, and the creation of whole new food product brands. Venture capitalists have begun investing in food companies that are developing vegetarians-based foods that taste like animal proteins, or close facsimiles.

Dine-out is Out and Dine-in in In

Dine-out-only food businesses will increasingly be offering delivery-only options and brands. UberEats, the food delivery brand for Uber, is making it easier and easier for high-end restaurant meals delivered to straight to your home, hot, ready to eat! Not only Uber Eats, there are multiple ways in which you could order in for yourself and your loved ones. For example, if you were living in San Francisco, and were considering the option of dining in with some Chinese soul-food, all you would have to do is to search online for 'the best chinese takeouts in san francisco' and you would get multiple options in a jiffy!

Seaweed Savior

Expect to see many more food options, including faux foods discussed above, using seaweed and a major ingredient. Seaweed is not only healthy and abundant, its umami flavors are exactly what is needed to boost animal protein-like flavors in vegetarian foods.

Sweet and Spicy is In!

While our appetites for spicy dishes continues to grow, it is expanding to the realm of sweet things. Think chili and chocolate. Or, jalapeño with honey, stuffed sweet potatoes with Sriracha, Thai chili lime mayo, and grilled watermelon gazpacho.

Food Porn Continues to Grow

The #foodporn hashtag will continue to grow eyeballs in 2017. Obsessed by chocolate, keen on coffee and mad about prawns, gourmands from around the world share their photos on Twitter, Pinterest, Instagram and Facebook. Think frankenshakes, chocolate cookie dirt, multi-layer stacked burgers, and ooey gooey cheesy dishes. So those of you who hear the word porn and automatically think of adult sites like TubeV Sex Lesbian might be disappointed, food porn is definitely not about sex although some say certain food can be as good as.

Rethinking Pasta

Noodles made from chickpeas, quinoa, rice flour, flax seed and lentils are still gaining popularity (reminder, they're gluten-free). For the "zoodle" fans out there, spiralized veggies will continue to own the spotlight, along with other exciting plant options, like kelp noodles.

Africa is the New Ethnic Cuisine

America's growing multicultural population is behind the charge for more international food. Relatively under-explored in the United States, African flavors and ingredients increasingly pop up on menus across the country. So savvy foodies are adapting menus to include more dishes rich in whole grains, beans, vegetables and exotic African spice blends from the second-largest continent in the world.

Wellness Tonics

Forget sugary, vitamin-infused waters-new hyper-functional, ultra-healthy, virtually medicinal beverages are about to flood the market. Tonics with botanicals that have roots in alternative medicine will be popular in 2017. Whether you're in need of an energy boost, focusing your thoughts, or quality shut-eye, there's a drink for that-no specialty store required. The most popular ingredients include kava, holy basil, apple cider vinegar, medicinal mushrooms, and maca and ashwagandha (you can find amazon ashwagandha at a good price). Experience turmeric tonic or cayenne infused Chili Mocha to fight inflammation and free radicals.

Fermentation is In

Fermentation has fascinated chefs for years as they've tried to uncover new ways to create naturally complex flavors with nuanced textures and bright fresh colors. While home chefs have dabbled in rotting foods, the home kitchen hasn't yet really broken out into mainstream but it will in 2017. Restaurant chefs will likely play into the growing notion that older, bubbling, cultured, and fermented foods are better for your health, for flavor, and for planet earth.