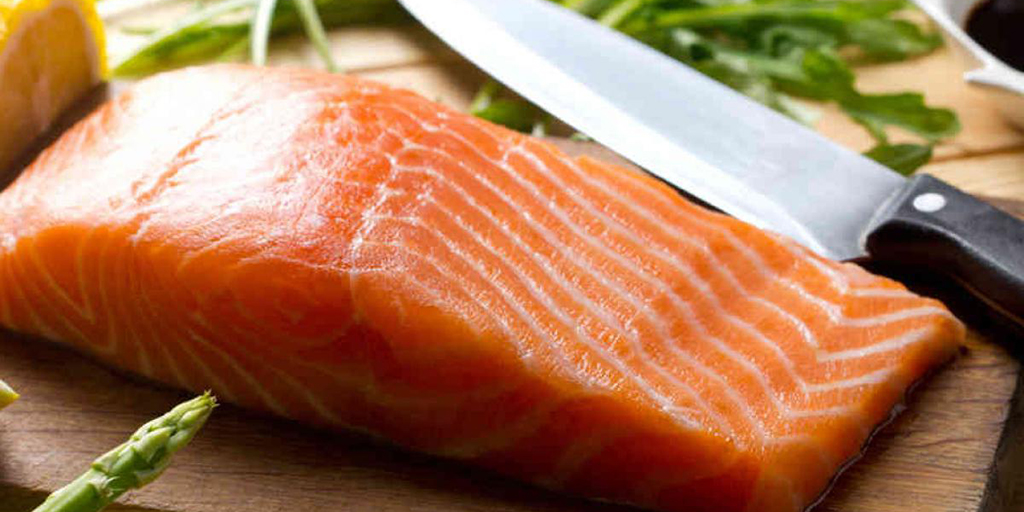 Even for the most die-hard of meat-eaters the salmon packs a fatty, flavorful punch that makes it a truly viable choice for a bite with boom. Popular salmon species include Chinook salmon, Sockeye Salmon and Atlantic salmon.
Salmon is one of the more succulent fishes you can enjoy; it even has various cuts like steak. In fact you can actually purchase salmon steak. Additionally filet of salmon and whole salmon are also popular for cooking and consumption.
Mega my Omega
Yep, if you want omega you got all kinds of omega in salmon. The fish is an Omega-3 powerhouse, one of the best food sources available to us. Omega-3 fats are the good kind of fat that we need but don`t actually produce in the body. Studies have indicated that Omega-3 is particularly beneficial for mental health by way of encouraging the production of dopamine and serotonin.
In fact the human brain and eyes are composed of a large amount of Omega-3.
The Best Grilled Salmon Ever
So what`s the best way to get the best grilled salmon ever. Well we're going to share that with you right now. First we'll start off with grilling a cut of salmon and then we'll move on to cooking the whole darn caboodle.
Step 1
For the good of the environment and to show kindness to your body, make sure you purchase wild salmon. Farming salmon is an unsustainable practice and pools of farmed salmon can lead to disease in the fish population which of course is not something you want to partake in consuming.
Step 2
When buying salmon cuts, it is best to stick to salmon with the skin on. Leaving the skin on the salmon helps in preventing it from sticking to your grill and can also ensure that the whole thing doesn`t fall apart.
Step 3
Your optimum heat level for your grill is medium-high, this keeps it high enough to prevent sticking but also ensures you get a slower heat so you can a nice, evenly grilled fish. For a piece of salmon that is 1″ thick you'll need approximately 10 mins. of cooking time with a flip halfway through.
Step 4
The salmon is a smart piece of fish and that`s why you don`t need to pick and prod at it as it is cooking. Just let it cook and after 5 mins. you can gently give it a little push to see if it comes off the grill on its own. A fish that is ready to be turned over will easily slide off the grill.
The Whole Fish
Step 1
Select your salmon and have your butcher gut and clean it for you (or you can do it yourself, but it will get messy if you're a newbie).
Step 2
Lightly oil your grill grates and preheat your grill at medium high.
Step 3
Prepare your fish by stuffing it with herbs and butter or lemon and then rub the whole fish with good quality oil like coconut or extra virgin olive oil.
Step 4
Make three or four diagonal cuts into the skin of your fish so that it has some give as it cooks.
Step 5
Place your whole fish on the grill and cook until 10 mins. are up, then nudge the fish slightly to see if it comes up off the grill on its own. If it comes off the grill easily then flip it over and cook for another 10 mins. You can gently touch the fish with your finger to see if it is firm, if it is all firm this means it is cooked, but if it's slightly jiggly then it needs more cooking.